Enjoy an Original Gallery Hotel,
Smell the best Holy Spiritual Historical Place in Damascus
Enjoy to stay in a gallery cozy ancient house, located in the most holy area in old Damascus (50 meters from St. Hanania Church) .
Where you can reach it through the straight street following the same way and steps of St. Paul that passed through to meet St. Hanania, passing through the most interesting Oriental Old bazaars in Damascus.
This House was restored in a 100% original and traditional way using only real old stones , woods and accessories to reflect the spirit and history of Old Damascus.
All rooms' walls are a sort of a gallery and museum of art and history filled with original charming Canvas related to very famous Syrian Artists, real Antique furniture. Supplied with shelves contain old items, tools and instruments.
The three levels old building has an underground fancy old bar and lounge (be proud to live in a twin place of St. Hanania Church and the most old original architectural design of domes in Damascus, feel the fever of romance and privacy in a very cold basement).
- A Ground floor of a rich opened unshielded sunny refreshing Courtyard, has an exciting walls covered with rare arches of big old stones makes you enjoy the four seasons climate of orient and surrounded by the following gallery rooms:
Presidential Room (Al Qa'aa) : A high ceiling double room has a rich decoration of ancient stones an original big canvas, furnished with antique metal beds and wooden old cupboards.

Romantic Suite: (Perfect for Honeymooners) Supported with a charming old fireplace , unique bathroom, meaningful canvas cover all stony old walls.

Ancient Room: A double room filled with old oriental stony monuments, gives you a special feeling of history and let you admire every fancy canvas that reflect the old mythology of Old Damascus.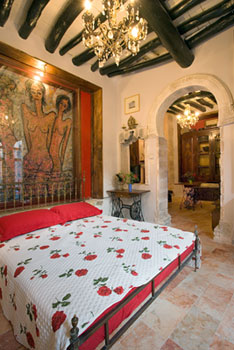 - The In between mid floor is a relaxing charged bathroom contains Sauna Room and wide squared area to have a special daily Gym and Massage, available for the daytime.
- The First Floor is divided by independent balconies serve each gallery room
Scales and Fine Art Room : A double bedroom has a private wide attractive terrace, walled with real canvas, old stony columns filled with antiques and valuable items.

The Southern Old Room: A very cozy and sunny double room makes you feel the sun rays in spite of the cold winter of Damascus.

The Exhibition Room: Takes you back to a very old period of Damascus (enjoy the daily antique instruments, old glassy items and the original painted ceiling and the old bathroom).

The Western Window Room : A single bedroom makes you enjoy the light of sun in all seasons and the sunset view on the background of old damascene houses through it's terrace .

The Northern Room: Where you can listen to the whispers of birds enjoying the neighborhood and the very narrow roads that gives you a special felling of Old Damascus.

The Small Special Room: Is the most economic rate single room to stay in old Damascus which gives you all benefits of accommodation (enjoy the best courtyard view, sky through the private terrace).
- The Upper Terrace : Enjoy the panoramic view of Qasioun Mountain , old churches and Mosques of the most old capital in the world, when you stay at in the heart of the most holy place of Damascus.
All rooms are supported with luxurious needs: